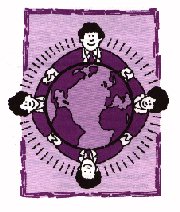 Can a BBS mean big business for your business?
We bet it can!
Thousands of companies have already set up their own computer Bulletin Board Systems to help them boost sales, enhance customer service, market their products, make their employees more productive, and keep the news media informed.
Most likely, a BBS can do the same for your company. This handy guidebook will help you explore the issues involved in setting up a BBS and what you can expect it to do for you.
More businesses treat a BBS as a tool that helps them market their main product or service line rather than as a profit center in and of itself. You probably don't expect your fax machine or photocopier to generate direct revenue for your business. Likewise, the BBS is a tool that offers your customers another way to contact your company.
Besides cost-savings and increased sales, a BBS can provide more intangible benefits for your business such as goodwill and public awareness. A BBS can, with minimal additional effort and expense, improve your image in the community and provide a valuable public service.
"Why should I consider starting a BBS?"
Companies of every type and size are discovering the benefits of operating their own computer Bulletin Board Systems. Although the first companies to get involved in this area were, as you might expect, computer companies, now everyone's getting into the act.
Could a BBS be right for you? To help you answer that question, take a quick look at how three organizations are using their BBSs to provide services and improve their profit picture. Later, we'll give you a more in-depth look at each of these three organizations' BBSs.
An architectural firm in Omaha, Nebraska is using a BBS to stay in touch with branch offices and clients. They save time and money by being able to send plans and drawings electronically. Also, as a service for the public, they offer general interest files and messaging.
A medical school in Montana is using a BBS to conduct long-distance education courses and keep rural physicians informed. Health care professionals and the public can access up-to-the-minute information on health issures, drug interatctions and symptoms, and even view job postings in the medical field.
A radio station in Dayton, Ohio is using a BBS to publicize concerts and coming events. This community service provides valuable exposure for the station well beyond its listening area, and it helps build goodwill and a postive public image in the community.
A closer look at the BBS world.
What exactly is a BBS and why are companies starting to get interested in them?
A Bulletin Board System (BBS) is a personal computer (PC) connected to a modem and telephone line, running software that allows it to receive incoming calls from anyone equipped with a personal computer and modem. The caller can be in the same room, across town or anywhere in the world.
People can call your BBS from their computers and modems to send and receive electronic mail messages (E-mail), send and receive files (uploads and downloads), request information or purchase products.
Companies use BBSs to make it easier for their staff, customers, and potential customers to communicate- 24 hours a day.
The types of services a BBS can deliver.
What types of services can a BBS deliver to your customers, prospects, employees and members of the news media?
Messages
Electronic mail (E-mail) is one of the most popular uses for a BBS. With it, callers can send messages to individuals or departments within your company at any time of day or night. Their messages always get though, leading to improved communications and goodwill.

E-mail is an obvious use for a BBS -- but did you know that you can also dedicate parts of the BBS to public message forums as well? That allows your callers to help each other as they participate in ongoing public discussions.

File transfer
With a company BBS, you can have sales information, technical data, catalogs, press releases or product specifications on-line for your callers. You can also accept confidential bids, inquiries, or even resumes electronically. For many companies, the ability to send and receive files has boosted their sales and profits significantly.

How about letting your customers download and view photographs of your products, or other digitized images? With a BBS, your prospects can download photos or even multimedia presentations of your products and services, complete with animated graphics, sound effects and music.

Displaying information on-line
If you often have time-critical information your callers need to see to stay informed, a BBS will automatically notify callers of new information bulletins as they are logging on. Callers can view new bulletins right away, or they can capture them for later review and printing. What types of information can you make available to your callers? Just about anything -- from bulletins and press releases to meeting announcements and technical help notes.
Gathering information
A BBS can perform a valuable marketing service for your company by making it easy toknow more about the people who use your products and services. You can get valuable demographic information, opinions, buying preferences, or suggestions for improved service…without even lifting a finger. All of this information can be easily gathered on a BBS via a simple on-line questionnaire. Then the results can be processed into a meaningful format for analysis.

Some companies even use a questionnaire to qualify callers to give them access to certain portions of their BBS that are not open to everyone, adding a level of security to their BBS.

Teleconferencing
If your company's BBS is equipped to handle more than one caller at a time, you can convene staff meetings on-line….with no need for people to leave their offices. During an on-line teleconference, anything that anyone types on their keyboard instantly appears on the screens of everyone who's taking part.

Teleconferencing can save considerable time and money for most companies. At-home and on-the-road, staff members can participate, too. You can conduct meetings in real-time with multi-user chat, or you can start a discussion in a staff-only message conference.

On-line shopping
On-line catalogs and order-entry make it easy to sell products and services from your BBS. As a special service, you can also set up a classified ad database so caller can sell items as well. Real estate professionals can "show" properties on-line, complete with pictures, while prospective buyers can post their "want lists" for hard-to-find items.
E-mail access for work-at-home staff
Telecommuting is one of today's smartest productivity solutions. Remote staff can use your BBS to send and receive E-mail and documents while they are on the road, as well as communicate easily with others with one centralized information center.
What advantages does BBS technology offer over other ways of taking care of business?
Availability -- clients, customer, prospects and staff can access a BBS when it's convenient for them.
It goes without saying that self-serve retail stores and gas stations are here to stay. A BBS is the ultimate self-service information provider, and it's a perfect way to help those customers who already know what they're looking for. While no business should consider doing away with personalized customer service during regular business hours, a BBS can provide self-service information around the clock to those who need it, long after the front doors have closed and the switchboard operator has gone home for the day. It's a great way to increase customer satisfaction.
Time shifting -- you can send and receive messages whenever you like.
Callers in different time zones no longer need to worry about getting in touch with you during business hours. Your customers can place messages, files or on-line orders on the BBS after hours and overnight, ready for your staff to handle when business resumes in the morning. Overseas clients can do business with you at their convenience, instead of staying up all night just to reach you at the office.
Wide area communication -- anyone with a computer and modem can keep in touch.
More and more people are using computers every day-four and a half million of them now, with thousands more joining their ranks every day. The majority of new computers sold today have modems and communications software already installed. Your staff, customers, colleagues and prospects already know they can save time and money by doing business on-line, and they are eager to send business your way -- if you can offer them the convenience of on-line communications.
Electronic accuracy -- you can make sure that everyone has the right information.
Voice-mail messages, answering machines and handwritten phone messages all have their place, but these kinds of messages can all too easily get lost, garbled, or misunderstood. The result? You have to call back to get things straightened out -- and the person you need to talk to may not be available. On-line messaging, file transfers and order entry through a BBS assure you that the information is saved exactly as the caller entered it.
Unattended operation -- once it's set up the BBS pretty much takes care of itself.
A well-designed BBS can be automated to the point where the only thing your staff needs to deal with is answering mail, processing on-line orders and reviewing files. No need to "get under the hood" during normal operation.
Low cost -- compared to other ways of sending and receiving information.
Think about how much you're currently spending on overnight couriers, conference calls and telephone tag. Are you mailing or faxing printed copies of documents you could just as easily put on-line? Are you waiting days, or even weeks, for printing and mailing services? Consider also the indirect costs to your business from customers who go elsewhere because you couldn't deliver the information services they needed.
What's involved with setting up a BBS?
There are many different BBS software programs available, ranging in price from "free" public domain systems to expensive high-end custom-programmed solutions. As you think about setting up a BBS, you need to consider the direct costs such as the BBS software, dedicated phone lines, modems and computers, and the indirect costs such as overhead, training, security, and the allocation of staff to maintain the system.
The issue of time demands.
Choose a BBS software program that is largely self maintaining. That frees up the Sysop, or BBS system operator, for the most important tasks: handling the mail, inquiries, and orders that come in through the BBS. Customer service, administration, processing orders, reading and answering mail are the most important areas where you should spend your time. Expect to spend no more time on the BBS than you're now spending on paper-pushing and telephone tag -- and watch your productivity grow and grow.
The issue of cost.
Some BBS programs can cost far less over the long term to set up and operate than others. The purchase price of the software is not necessarily an indication of its long-term cost or performance. There are plenty of "free" BBS programs -- but you usually get exactly what you pay for when it comes to support or bug fixes. Some programs offer a low inital price for a bare-bones package but require expensive add-on modules to make them usable. At the other end of the spectrum, some expensive packages pretend to offer "all things to all people" -- so long as you're a programmer with time to figure out how to put it all together. What you should choose is a BBS program that is network friendly, easy to set up and maintain, customizable, and one that will run on virtually any ordinary computer using off-the-shelf modem hardware.
The issue of support.
Find a BBS software vendor that can provide customer support when you need it, with a variety of support options -- one with a real "corporate presence." Look or professionalism in the way the BBS software is written, marketed and supported. Make sure the manuals are clear and easy to understand. The best BBS software is easy for a non-technical person to set up and use, and it offers complete functionality at a moderate price. Choose an "industry standard" program -- one that is popular enough that your callers may already be familiar with using it.
The issue of space.
Most BBS programs can handle multiple users on a single PC. Most packages will allow you to run four or more phone lines on one computer, depending on the type of operating environment you select. Choose a package that is friendly to your Local Area Network and does not require additional computers to launch user-selectable applications.
The issue of manpower.
A good BBS program is designed to be easy for almost anyone to use. That means you can confidently delegate the BBS operations to your administrative, sales or PR staff.
The issue of security.
The only type of BBS program you should consider using in your company is one that you can depend on to keep your BBS secure from unauthorized access. For maximum security and peace-of-mind , choose a program that has already proven itself with a large installed base of users.
How to market your BBS to let others know they can use it to get information and services from your company.
Your BBS phone number should be on every piece of printed material your company sends out -- with the same prominence as your Business and Fax phone numbers. Mention your BBS on business cards, letterheads, invoices, brochures, owner's manuals, advertisements, flyers and direct mail pieces.

Encourage your switchboard operators and telephone sales staff to tell callers about your BBS. Be sure staff members are familiar with the BBS and feel comfortable using it.

Mention your BBS any time you talk to the press, and send a press release about it to the editors of your trade publication or community newspaper. Make sure your trade organization knows about your BBS, too.

Spend some time to create a pleasant, well organized system. Before you go on-line with your BBS, ask yourself "Is our BBS one that I and my staff can be proud of? Is this the image we want to present to our customers?"

And finally, welcome callers to the BBS, make them feel at home, and be sure their questions and inquiries are handled promptly. Do everything you can to ensure the information they're looking for is easy to find, and that the information is complete. Thank them for calling, and invite them to call again.




---